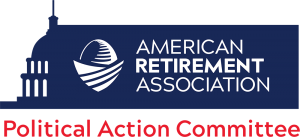 ARA PAC is Your Voice on Capitol Hill!
The American Retirement Association supports the operation of the ARA Political Action Committee (PAC), as authorized by, and in accordance with, federal law. Federal law prohibits soliciting contributions from outside the restricted class (affirmed ARA members). Any contributions received from outside the restricted class will be returned to the donor.
The ARA PAC strengthens the American Retirement Association's voice. The ARA PAC is a way to reinforce our credible and trusting relationships with lawmakers and helps us to make sure our ideas and philosophies are widely heard and understood. Political contributions – which by law only the ARA PAC, and not ARA or its underlying member organizations, can make – allow us to support lawmakers who support the employer-based retirement savings system.
PACs are a means to recognize that America is a nation of interests where groups of citizens have a desire and constitutional right to participate in the election/campaign process. PACs channel this involvement in a fully disclosed, highly regulated, and financially limited manner.
The ARA PAC funds are used to make contributions to candidates for federal office. Under applicable law, the amounts that may be contributed to and by a PAC are limited, and steps must be taken to ensure that employee contributions to the PAC are strictly voluntary and without coercion.
Only individuals who are affirmed members of ARA or its underlying member organizations can contribute – company contributions are not permitted under federal law.